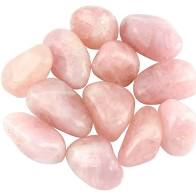 Rose Quartz Tumbled Crystal
Tumbled Polished Rose Quartz Crystal

Rose Quartz is great for crystal meditations and chakra balancing of the heart chakra. You can carry them in your pocket, purse or just hold them when you need to.

Rose quartz is the unconditional love stone that helps to bring its holder comfort, peace, and a feeling of general love. It holds strong feminine Goddess energies.
Rose quartz is a stone of the heart that allows one to love oneself, love others, and accept love from others. It promotes self-acceptance and acceptance of others. It heals the wounds of feeling unloved and restores confidence and trust in others.


You will receive 1 tumbled rose quartz stone
~1"-1.25"

*These are natural stones, please allow for a slight variation in color and size with each one.