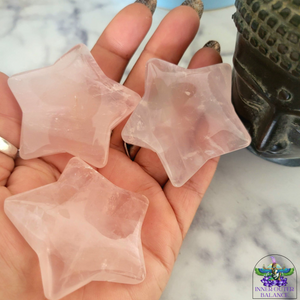 Rose Quartz Stars
Regular price $17.95 $12.00 Sale
Crystal
: Rose Quartz
Chakra
:Heart
Healing Properties
: Rose quartz is the unconditional love stone that helps to bring its holder comfort, peace, and a feeling a general love. It holds strong feminine Goddess energies. Rose quartz is a stone of the heart that allows one to love oneself, love others, and accept love from others. It promotes self-acceptance and acceptance of others. It heals the wounds of feeling unloved and restores confidence and trust in others.
Measurements
~1.5"
* You will receive one star
*These are natural stones, please allow for a slight variation in color and size with each one. Due to the nature of crystals/minerals/stones some may have natural rough areas, surfaces,caves,slight chips & nicks.