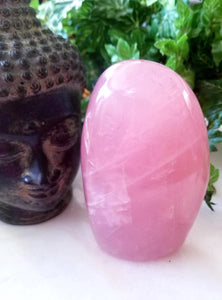 Rose Quartz Polished Standup 4.6"
Regular price $84.00 Sale
Rose Quartz Polished Standup


Rose quartz works deeply to open up and balance your Heart Chakra. It represents eternal and unconditional love, and it carries feminine Goddess energy of compassion, peace, and healing. This is extra special because it is has a natural star formation within the crystal enhancing its qualities.

All crystals are cleansed and charged before packaging and shipping them off to you.

Measurements:
Size: 4.65"x 2.85"x 2"
118mm x 72mm x 50mm
Weight: 24.95oz (707g)
Location: Madagascar
These are natural stones, please allow for a slight variation in color and size with each one. It is natural for crystals to have small pits and or cracks.