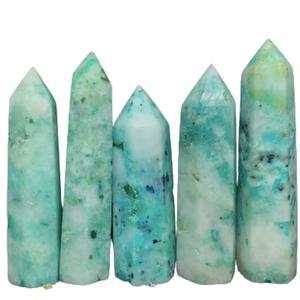 Phoenix Pine Point
Regular price $14.95 $10.00 Sale
Crystal
: Phoenix Pine 
Chakra
: Heart & Throat
Healing Properties
: Phoenix Stone also known as Sage Stone is a naturally occuring combination of malachite, turquoise, chrysocolla, azurite and other minerals. Phoenix Pine assist with one's spiritual evolution (phoenix rising) to help humanity evolve by getting rid of fear, anger & hate.
~3"
* You will receive one point 
*These are natural stones, please allow for a slight variation in color and size with each one. Due to the nature of crystals/minerals/stones some may have natural rough areas, surfaces,caves,slight chips & nicks.