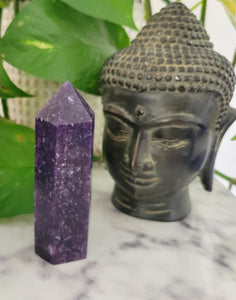 Lepidolite Tower Point
Regular price $17.00 Sale
Lepidolite crystal contains high amounts of lithium, which is used in anti-anxiety medication. Lepidolite brings a sense of calm and tranquility helping to balance the mind and spirit. Lepidolite stimulates all chakras, dissolving energy blocks & stagnant energy that may be negatively affecting you. I 💜 to sleep with Lepidolite under my pillow for tranquil, peaceful dreams & sleep.

* You will receive 1 Lepidolite Point
~3.75"
4.67oz
*Due to natural formations in the stones, each tool will be unique and vary in size and color from the picture that is listed unless stated. 
Minimal surface cracks are to be expected on some of our stone varieties.