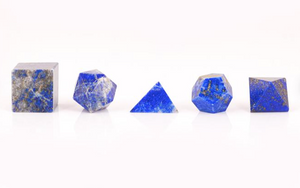 Lapis Lazuli 5 Piece Sacred Geometry Mini Set
Regular price $26.95 Sale
Lapis Lazuli Sacred Geometry Set

Lapis Lazuli quickly releases stress, bringing deep peace. It brings harmony and deep inner self-knowledge. Encourages self-awareness, allows self-expression and reveals inner truth, providing qualities of honesty, compassion, and morality to the personality. Stimulates objectivity, clarity, and encourages creativity. Lapis Lazuli assists to confront and speak one's truth and inspires confidence. It bonds relationships, aiding in the expression of feelings and emotions.

Lapis Lazuli is a combination rock type of Calcite, Lazurite & Pyrite.


Chakras - Throat Chakra, Third Eye Chakra
Birthstone - December
Zodiac - Taurus, Sagittarius
Element - Water
Typical colors - deep blue flecked with gold (Pyrite)

PLEASE NOTE MEASUREMENTS:
Measurements
~.75"-1" per piece

*These are natural stones, please allow for a slight variation in color and size with each one.