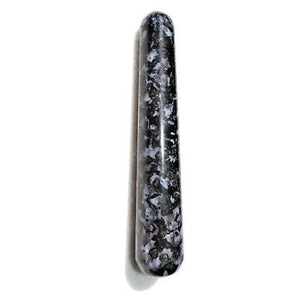 Indigo Gabbro Massage Wand
Regular price $26.95 Sale
This Indigo Gabbro A.K.A Mystic Merlinite Massage Wand is great for crystal meditations and chakra balancing of the heart chakra as well as massage.
It is believed that using an indigo gabbro stone attracts teachers, visitors or other clear messages into your dreams and meditations, making it an excellent stone for intuitive learning and connecting with higher consciousness
Chakra: Third Eye Chakra & Root Chakra

Measurement: ~4.5"

* You will receive 1 Indigo Gabbro wand


*Due to natural formations in the stones, each tool will be unique and vary in size and color from the picture that is listed. If you have a specification please let me know and I will do my best to accommodate your preference.
Minimal surface cracks are to be expected on some of our stone varieties. No stone is the same so expect yours to look somewhat different than the picture on the product page.