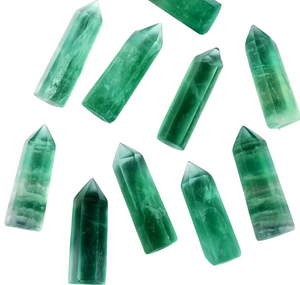 Green Fluorite Point
Regular price $15.95 Sale
Crystal
: Green Fluorite
Chakra
: Heart 
Healing Properties
: Fluorite cleanses and stabilizes the aura while neutralizing negative energy and stress. Green Fluorite is associated with the Heart Chakra and can help bring hormones into balance. It harmonizes and recharges all chakras. It encourages positivity, balances the energies, and improves balance and coordination, both physically and mentally.
~3"
* You will receive one point 
*These are natural stones, please allow for a slight variation in color and size with each one. Due to the nature of crystals/minerals/stones some may have natural rough areas, surfaces,caves,slight chips & nicks.