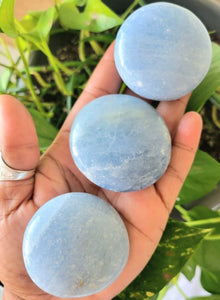 Blue Calcite Palm Stone
Regular price $16.00 $11.00 Sale
Blue Calcite Palm Stone

Blue Calcite is a calming stone that soothes frayed nerves and helps lessen anxiety. A gentle stone to use when recuperating, Blue Calcite facilitates physical healing by clearing negative emotions and encouraging rest and relaxation. 

Use Blue Calcite with the Throat Chakra to facilitate calm communication.
It amplifies energy in the Throat Chakra, allowing clear communication. Working with the Third-Eye Chakra, Blue Calcite can enhance or activate the intuition and inner sight. Meditating with Blue Calcite can promote an optimistic point of view.
Primary Chakra: Throat, Third Eye
Astrological sign(s): Cancer
Vibration: Number 3
Measurements:
~2.5"


Location: Madagascar
* You will receive 1 Blue Calcite Palm stone intuitively chosen for you.

*These are natural stones, please allow for a slight variation in color and size with each one. Minimal surface cracks are to be expected on some of our stone varieties